By Frances Mayes.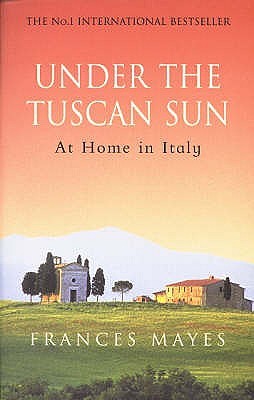 First I saw the film. After seen that I thought that, as with many films, the book would be better. It is usual to edit and amend the written word of the book to make a good film, and I liked the film of Under The Tuscan Sun. While it is quite possible to see the inspiration and influences of the film in the book, do not be deceived by them having the same title. They are quite different.
The film tells a story that I assumed had been taken from a novel. If you see the film without reading the book, you would probably assume the same. Under The Tuscan Sun is not a novel. It is a travel memoir of the author's exploits in Italy.
It seems to me that Mayes' publication is in reality three, perhaps four, interweaving books in one. Buying and restoring an Italian property, a travelog around Tuscany and a short cookbook of recipes from around the region of the property she has restored. All this is tied together in Mayes' memoire. Once I got past the part of the book about restoration of the property, a villa called Bramasole (meaning 'yearning for the sun') I began to lose interest, though I did go on to complete it.
Ironically, I had suggested this book to the book club I go to after I saw the film on television, not realising just how different it is. Other reviews of Under The Tuscan Sun are pretty polarised, it was really liked or disliked. Few reviews I read are in the middle ground. I quite liked it but found it a bit disconcerting. It is just too different from what I expected after the film, even after allowing for film-makers license.